Al Bano and Romina Power
"A great love strory with a tragic end"
Al Bano and Romina Power were an Italian pop music duo formed by then-married couple Albano Carrisi and Romina Power, daughter of American actor Tyrone Power...
They are best known for their songs Felicita, Sempre sempre and Nostalgia Canaglia.
The two separated in 1999.
Albano Carrisi was born in Cellino San Marco, Brindisi, Apulia, on 20 May 1943 as first of two sons of Carmelo and Iolanda Carrisi.
His name comes from the circumstance that his father was imprisoned in Albania at the time of the birth.
At the age of 12 he wrote his first song, "Addio Sicilia".
At the age of 16 he moved to Milan in the hope to assert himself in music. He jobbed as waiter, construction worker and assembly-line worker.
Romina Francesca Power was born on 2 October 1951 in Los Angeles, California, USA as the first of two daughters of Tyrone Power and Linda Christian.
At birth Romina was a healthy six-pound, eleven-ounce baby and she was named in honor of the Italian church in which her parents were married.
After her parents' divorce in 1956 Romina lived with her continent-traveling mother, her younger sister, Taryn, and their nanny.
She was only seven years old when her father died. She lived in Mexico and went to Italy when her mother married again. Still she went to college in England.
In 1965 Al Bano answered an announcement of the "Clan di Celentano" that looked for new voices and he was taken.
As a stage name he chose "Al Bano" instead of "Albano".
He made his first tour with the "Clan" through Italy and Switzerland. His first single was "La Strada Che Mi Conduce A Te".
Romina also recorded her first single, "Quando Gli Angeli Cambiano Le Piume" and shot her first film, "Menage All'Italiana".
Altogether she shot 9 films during her career (the last in 2002) plus 7 with Al Bano.
In 1966 Al Bano had his first TV appearance in the program "Sette Voci".
In 1967 the single "Nel sole" became large, selling 1.300.000 copies. He accompanied the Rolling Stones on their Italian Tour as a special guest. Al Bano became the favourite of the public, with a vocal range of 4 ? octaves and he wrote most of the songs himself. At the shots for the film "Nel Sole" Al Bano got to know Romina. Between 1967 and 1983 they shot 7 films together, based on their songs. Al Bano in addition made one film without Romina.
In 1969 Romina released her first of three solo albums until 1974.
The two married on July 26 1970 in Cellino San Marco although Romina's mother had had something against it. In the same year their first daughter Ylenia Maria Sole was born on November 29 in Rome.
On April 21 1972 their son Yari Marco was born in Rome.
In 1975 Al Bano & Romina released their first LP together. Through the years they recorded one disc after the other, many of them with both an Italian and a Spanish version.
In 1976 they represented Italy in the Eurovision Song Contest where they got in seventh place getting 69 points with the song "We'll Live It All Again", interpreted in Italian and English. After that they recorded a version of this song in Spanish and also in French. There also exits the Italian only version "E Fu Subito Amore".
The duo broke a record in Italy in 1982 with four songs being the Italian hit parade at the same time. In the same year they participated in the "Festival di Sanremo" with the song "Felicita" and came in second place. They sold 6 million copies of the song in Germany and got the "Golden Globe" for it.
In 1984 they finally won the "Festival di Sanremo" with "Ci Sara".
In 1985 they participated again in the Eurovision Song Contest with "Magic, Oh Magic" getting 78 points and reaching place 7.
On December 25 1985 their third daughter Cristel Chiara was born in Cellino San Marco. Another important moment in Romina's life in this year was the first meeting with her half-brother Tyrone Power jr. who had seen her on TV singing "Magic, Oh Magic".
In 1986 Al Bano and Romina Power signed a contract with WEA that marked another important step of their artistic career with the publication of the album "Sempre Sempre" that confirmed their international success. In the song "Settembre" the voice of baby Cristel can be heard and in "Lord Byron" there's the voice of Tyrone Power reciting part of one of Lord Byron's poems.
On June 1st of 1987 the fourth child Romina Iolanda was born in Cellino San Marco. At the end of the year the album "Liberta" was published. In this new album Ylenia also participated in the song "Abbi Fede", a duet with mother Romina. As it happened with the previous album, this disc not only sold well in Italy, but also in the rest of Europe.
In January 1989 the album "Fragile" was released that also included a song of Romina with her half-brother Tyrone Power jr.
In 1991 Al Bano and Romina Power participated in the Festival di Sanremo with the song "Oggi Sposi". Tyrone Power jr. sang the same song in English, entitled "Just Married". In the same year they celebrated 25 years of their artistic career with an anthology that included their most popular songs, "Le Piu Belle Canzoni". They also wrote their autobiography "Autoritratto dalla A alla R" and released a video entitled the same.
In January 1994 their daughter Ylenia disappeared in New Orleans. Al Bano and Romina cancelled their dates immediately and dedicated all their time to the search of their daughter. Unfortunately, the efforts of the police in order to find her did not bring a result until today.
Romina still believes she's alive while Al Bano thinks she's dead.
In 1995 the couple released a new album again - "Emozionale".
In 1996 Al Bano returned to his life as a solo artist with the participation in the "Festival di Sanremo" with the song "E La Mia Vita".
Romina Power recorded a disc with the aid of her son Yari and the composer Maurizio Fabrizio but unfortunately it was never released. She also participated in the television mini series "Il Ritorno Di Sandokan" ("The Return Of Sandokan") with Kabir Bedi.
In an interview in May 2004 she admitted to have betrayed Al Bano there once.
In 1997 Al Bano released his first solo album after Romina, "Concerto Classico".
Romina Power published her first book entitled "Cercando Mio Padre" in 1998 writing about the father that had passed away too soon.
In 1999 Al Bano announced the separation of the couple in an open letter to the weekly magazine "Oggi", in which he explained the reasons for their decision. Romina moved to Rome where she had acquired a house in Trastevere and where she dedicated herself to presenting a TV show ("Per Tutta La Vita" in 1999 and 2000) while Al Bano stayed in Cellino San Marco. Al Bano released "Volare" and gave concerts in the USA, Russia, South America, Greece, Spain, Italy, Austria and Germany. Al Bano has used his fame to bring attention to the war against drugs as a Goodwill Ambassador for ODCCP, and appeared in support of the Food and Agriculture Organization of the United Nations (FAO) at an awareness-raising event in Florence with Luciano Pavarotti in 1999.
In 2000 Al Bano shot the film "Nel cuore del padre", dedicated to his father. Al Bano also took part in the Eurovision Song Contest 2000 as a background artist for Jane Bogaert (Switzerland) who had been his background singer for years. Romina released her novel "Ho Sognato Don Chisciotte", dedicated to Ylenia and made her first exhibition of her paintings in Venice.
In October 2001, Mr. Carrisi was appointed as a Goodwill Ambassador for the FAO. Romina gave her debut as an actress in the theater with "I Monologhi Della Vagina".
In 2005 Al Bano and Loredana Lecciso, who is 28 years younger, separated. They had been together for five years and have two children- Jasmine (*14 June 2001) and Albano Giovanni Paolo (*26 October 2002).
The last album Al Bano has released until now was "Cercami Nel Cuore Della Gente" in March 2007. The album contains the song "Nel Perdono" which he sang at the Festival di Sanremo in 2007, getting in second place. He published his autobiography "E La Mia Vita" in November 2006.
Nowadays, Romina is holding exhibitions of her works entitled "The power of color" (for example in November 2003 and in the beginning of 2004). In 2005 she showed her film "Upaya" (written and directed by her) at one of these exhibitions and has released the DVD together with a book at the end of November 2005.
Little is known about her private life.
Today Al Bano has 40 gold and 80 platinum records to his credit. They've made about 100 tours on all continents and sold 150 million LPs...
---
Breaking News
Gossip in Italiano
(Intentionally left untranslated but you can click HERE for English)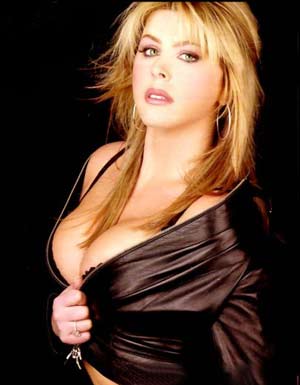 Photo: Loredana Lessico
Al Bano e Loredana Lecciso di nuovo insieme!
Una serie di foto proverebbe il ritorno di fiamma. E la telenovela riparte!
Arriva l'estate e ricomincia il tormento. Giornali e giornaletti si riempiono di foto rubate e amori improbabili che milioni di italiani divoreranno sotto gli ombrelloni.
Aprono le danze Al Bano e Loredana Lecciso che, a quanto pare, sono tornati insieme.
La notizia che tutti attendevano con ansia rimbalza qua e là già da qualche giorno, per l'esattezza da quando il cantante è stato sorpreso mentre entrava in piena notte nell'abitazione della Lecciso per poi uscirne all'alba. Al Bano ha sempre sostenuto che tra lui e la showgirl ci fosse solo un'amicizia ma ora, a suo discredito, sono spuntate le prove. Che cosa potrà mai valere la parola dei diretti interessati di fronte alle foto "inequivocabili" preannunciate dal settimanale Chi?
La crisi tra la coppia era scoppiata dopo la partecipazione della Lecciso al reality La Fattoria. Lei troppo esibizionista, lui troppo possessivo. E dopo estenuanti tira e molla, è arrivata la rottura in diretta tv, durante una puntata de L'Isola dei famosi a cui Al Bano stava partecipando in qualità di naufrago. Dopo la separazione, i due non hanno mai smesso di vedersi, a detto loro "per il bene dei figli", Jasmine di 7 anni e Al Bano Jr di cinque. Questa volta però c'è chi è disposto a giurare: il ritorno di fiamma c'è davvero.
Tutto su Al Bano|Chi é Loredana Lecciso|Al Bano in video




(Intentionally left untranslated but you can click HERE for English)
---
E la mia vita - It's my life


Nikos Deja Vu © 2008
Nikos Deja Vu
http://n1999k.blogspot.com
http://youtube.com/nikosdejavu