ΤΟ ΕΛΛΗΝΙΚΟ ΤΣΑΙ
(Το τσάι του Ελληνικού στρατού)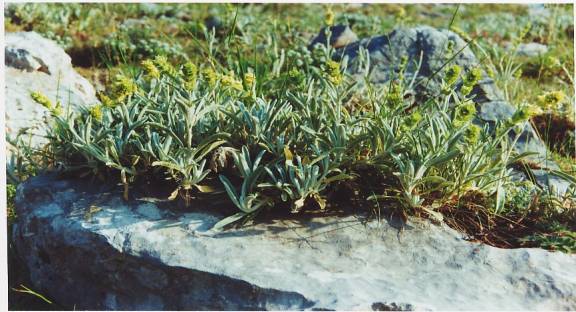 Περιγραφή:
Πολυετής πόα ύψους έως 50 εκ. Έχει φύλλα αντίθετα, χνουδωτά, λίγο οδοντωτά. Τα βράκτια είναι σχετικά μεγάλα, με χαρακτηριστικό σχήμα –απότομα μυτερά- και υπερκαλύπτουν τα άνθη. Βρίσκεται σε πετρώδεις και βραχώδεις θέσεις, σε μεγάλα υψόμετρα.
Θεραπευτικές Ιδιότητες:
Το αφέψημα αυτό προτιμάται λόγω της ευεργετικής του επίδρασης σε κρυολογήματα και φλεγμονές του ανώτερου αναπνευστικού συστήματος, ιδιότητες που ενισχύονται με την προσθήκη μελιού. Οι ευεργετικές επιδράσεις οφείλονται στην αντιφλεγμονώδη, βακτηριοστατική και αντιοξειδωτική δράση του. Ακόμη θεωρείται ευστόμαχο, εφιδρωτικό, τονωτικό, αντιερεθιστικό και αντιαναιμικό.
Χρήση:
Οργανοληπτικά το ρόφημα είναι πολύ εύγευστο και αρωματικό, ενώ μπορεί να καταναλωθεί ζεστό ή κρύο, με ζάχαρη, μέλι ή και σκέτο.
THE HELLENIC TEA
(Also the tea of the Hellenic Army)
(AUTOMATIC TRANSLATION IN ENGLISH)
Description:
Perennial herb up to 50 cm has leaves instead of fluffy, slightly toothed. The bracts are relatively large, with a characteristic shape, sharply-pointed and beyond the flowers. Located on stony and rocky places at high altitudes.
Therapeutic Properties:
The decoction is preferred because of its beneficial effect on colds and inflammation of the upper respiratory system properties supported by adding honey. The beneficial effects due to anti-inflammatory, bacteriostatic and antioxidant activity. Even considered efstomacho, diaphoretic, stimulant, and antierethistiko antianaimiko.
Use:
Tasting the drink is very tasty and aromatic, and can be eaten hot or cold, with sugar, honey or plain.
Nikos Deja Vu
http://n1999k.blogspot.com