Θεσσαλονίκη
Ήταν εκείνη τη νυχτιά που φύσαγε ο Βαρδάρης
το κύμα η πλώρη εκέρδιζεν οργιά με την οργιά
σ' έστειλε ο πρώτος τα νερά να πας για να γραδάρεις
μα εσύ θυμάσαι τη Σμαρώ και την Καλαμαριά
Ξέχασες κείνο το σκοπό που λέγανε οι Χιλιάνοι
άγιε Νικόλα φύλαγε κι αγιά θαλασσινή
τυφλό κορίτσι σ' οδηγάει παιδί του Μοντιλιάνι
που τ' αγαπούσε ο δόκιμος κι οι δυο Μαρμαρινοί..
Απάνω στο γιατάκι σου φίδι νωθρό κοιμάται
και φέρνει βόλτες ψάχνοντας τα ρούχα σου η μαϊμού
εκτός από τη μάνα σου κανείς δε σε θυμάται
σε τούτο το τρομακτικό ταξίδι του χαμού
Κάτω από φώτα κόκκινα κοιμάται η Σαλονίκη
πριν δέκα χρόνια μεθυσμένη μου είπες σ' αγαπώ
αύριο σαν τότε και χωρίς χρυσάφι στο μανίκι
μάταια θα ψάχνεις το στρατί που πάει για το Ντεπό..
---
Στίχοι: Νίκος Καββαδίας
Notes for the translation:
Βαρδάρης (Vardaris): a river, a fierce wind (as here); also the red-light district of Saloniki.

Οργιά (Orgia = Bathymetry): 1.83 m, one fathom.

Ο πρώτος (Protos): on Greek ships, the first engineer (not the first officer, who is called γραμματικός).

Γραδάρω: Measure pH of the water in the boiler of the ship's steam engine (as here); also, measure the salinity of the water when the ship navigates the mouth of a river.

Σμαρώ: Smaro is short for Smaragda (the name Kavvadias girl when he lived in Kalaramia)
Kalamaria, the Dépôt: Saloniki neighborhoods.

Child of Modigliani: Modigliani drew the people in his picture with dim pupils only, or none at all.

Marmarinoi: men, presumably sailors, from the sea of Marmara (Turkey).

Γιατάκι: from the Turkish word yatak, bed.

No gold upon your sleeve: not an officer (Kavvadias sort of tried for officer, but remained radio operator).
Lyrics: Nikos Kavvadias
---
Thessaloniki
It was on that night when the Vardaris was blowing
the prow conquering the wave, fathom after fathom.
The engineer has sent you to check the boiler water,
but you are remembering Smaro and Kalamaria.
You have forgotten that tune that the Chileans used to play.
- Holy Nicolas protect us, and Our Lady of the Sea -
The blind girl is guiding you, a child of Modigliani,
the ansom used to love her, and the two guys from Marmara.
Above your bunk a lazy snake is sleeping
and the monkey is turning in circles searching your clothes.
Excepting your mother nobody remembers you
on this frightful journey of disaster.
Under her red lights Thessaloniki is asleep.
Ten years ago girl, drunk, you told me "I love you"
Tomorrow just like then and with no gold on your sleeve
you will be, in vain, looking for the way to the Depot.
Salonicco
Era quella sera che spirava il Vardari
l'onda guadagnava la prua braccio dopo braccio
il tecnico di bordo ti ha mandato a controllare il motore
ma tu ricordi Smarò e Kalamarià

Hai dimenticato la canzone che cantavano i Cileni
San Nicola ti protegga e la Santa del Mare
la ragazza cieca che amavano il cadetto e i due
di marmara, ti guida, figlio di Modigliani

Sopra al tuo letto dorme indolente un serpente
e la scimmia va in giro cercando i tuoi vestiti
tranne tua mamma nessuno ti ricorderà
in questo terribile viaggio della disperazione

Sotto le luci rosse dorme Salonicco
dieci anni fa ubriaca mi hai detto ti amo
domani come allora e senza oro sulla manica
cercherai invano la strada che porta a Depo..
Thessaloniki
Es war in jener Nacht, als der Vardaris wehte,
der Bug bezwang die Wellen Faden für Faden
Der Erste hat dich geschickt, die Wasserdichte zu messen,
aber du hast nur an Smaro und Kalamaria gedacht

Du hast jene Melodie vergessen, die die Chilenen spielten
St. Nikolaos - beschütze - und Heilige der Meere
Das blinde Mädchen führt dich, ein Kind Modiglianis,
das sie liebten, der Kadett und die zwei Matrosen aus Marmaris

Auf deiner Koje schläft eine träge Schlange
und der Affe tollt herum und wühlt in deinen Kleidern
Außer deiner Mutter erinnert sich niemand mehr an dich
auf dieser entsetzlichen Reise des Verderbens

Unter roten Lichtern schläft sie, Thessaloniki
Vor zehn Jahren, betrunken, sagtest du mir "ich liebe dich"
Morgen wie damals, und ohne Gold am Ärmel,
wirst du vergeblich den Weg suchen, der dich zum "Depot" führt
---
Nikos Kavvadias
(Sailor and Poet)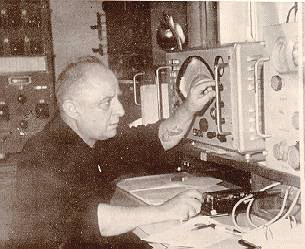 Nikos Deja Vu
http://n1999k.blogspot.com
http://youtube.com/nikosdejavu